POD Upload Tool – Upload your designs to Print on Demand Platforms Automatically
POD Automation Software – Automatic Design Upload, Print on Demand Upload Automation
Upload all your designs automatically to various POD platforms like: Merch by Amazon, Redbubble, Spreadshirt, and much more by using the a POD Upload Tool. Save time, upload more designs. Publish your designs on all print-on-demand platforms fast and easy. Be more efficient by Automation and use the POD upload automation tool for uploading your images, designs, shirts, and t shirts. 
POD Automation
for your Print On Demand Business
A User Interface To Fall In Love With
Let's enjoy the tagging of your desingns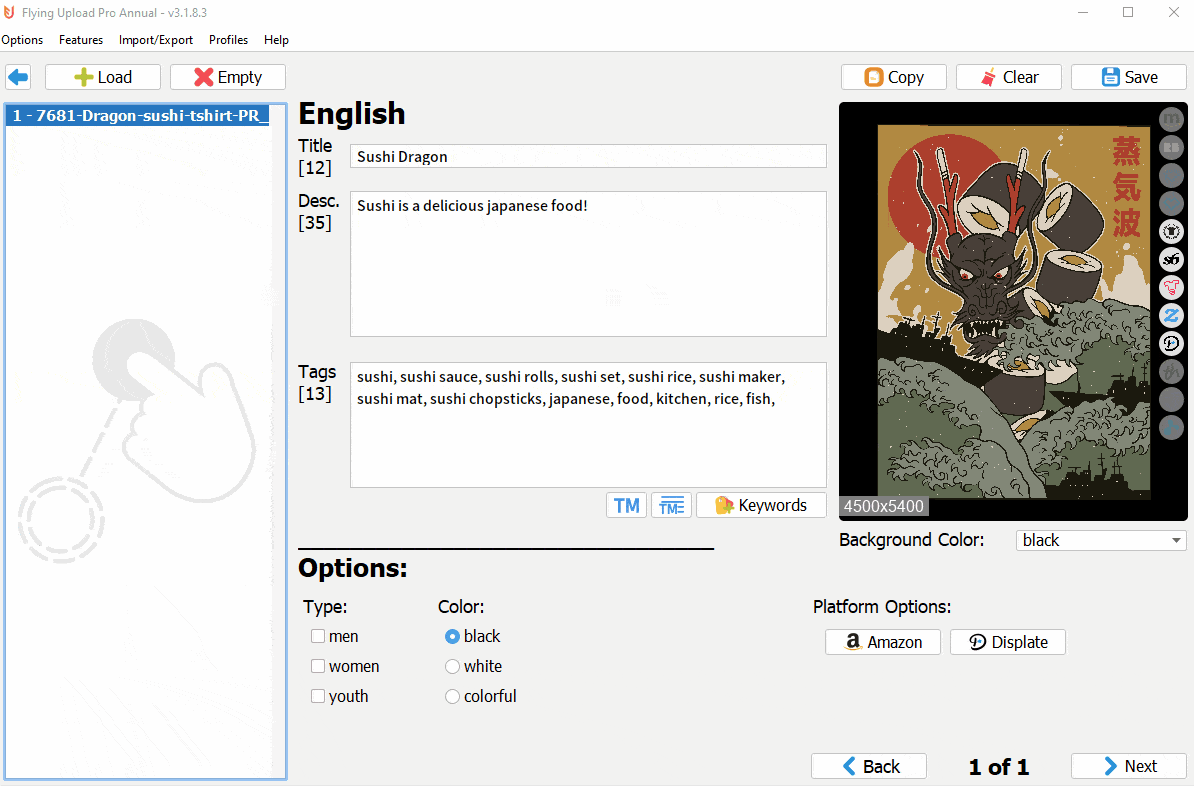 An Interface You Will Love
Super simple and easy to use

Drag & Drop your images

No more excel columns

Shortcuts for advanced users

Save and reuse your data
Tag your designs simpler then ever before

All products, marketplaces, and languages

Convert images automatically

Save time and copy your data

Translate your text by one click

See how the colors fit with your design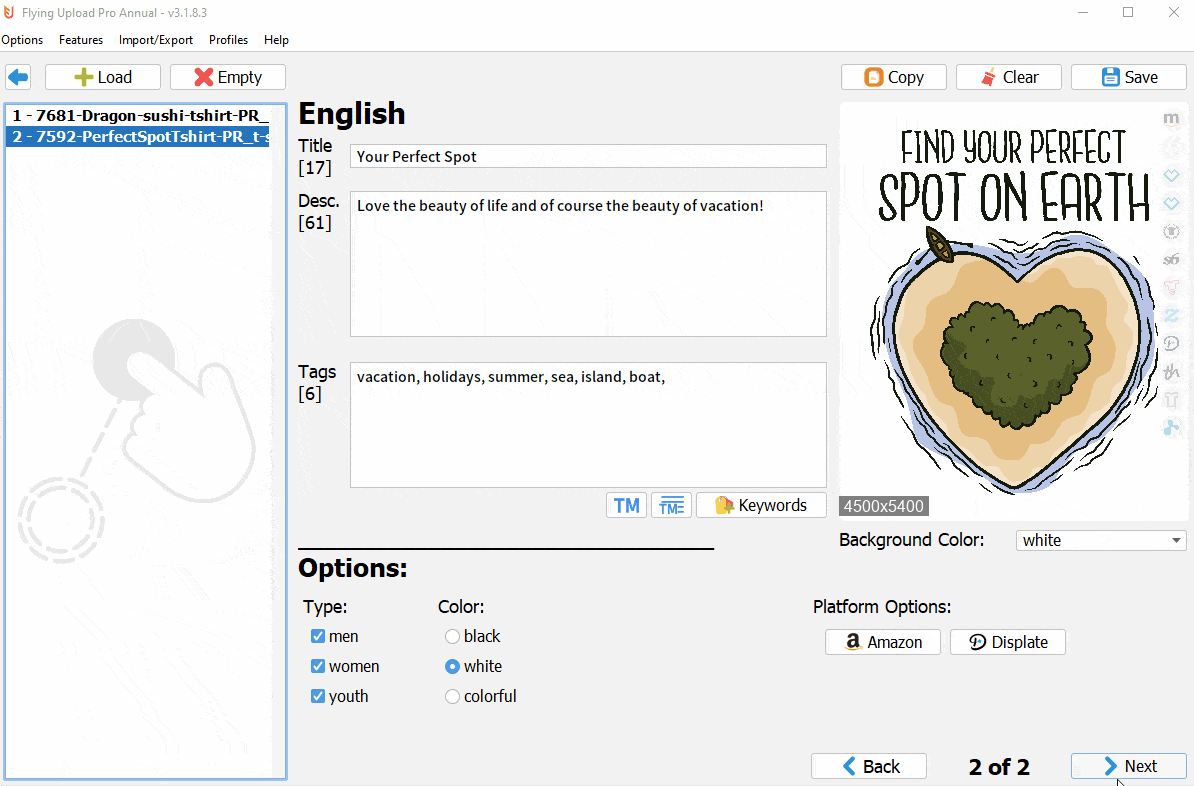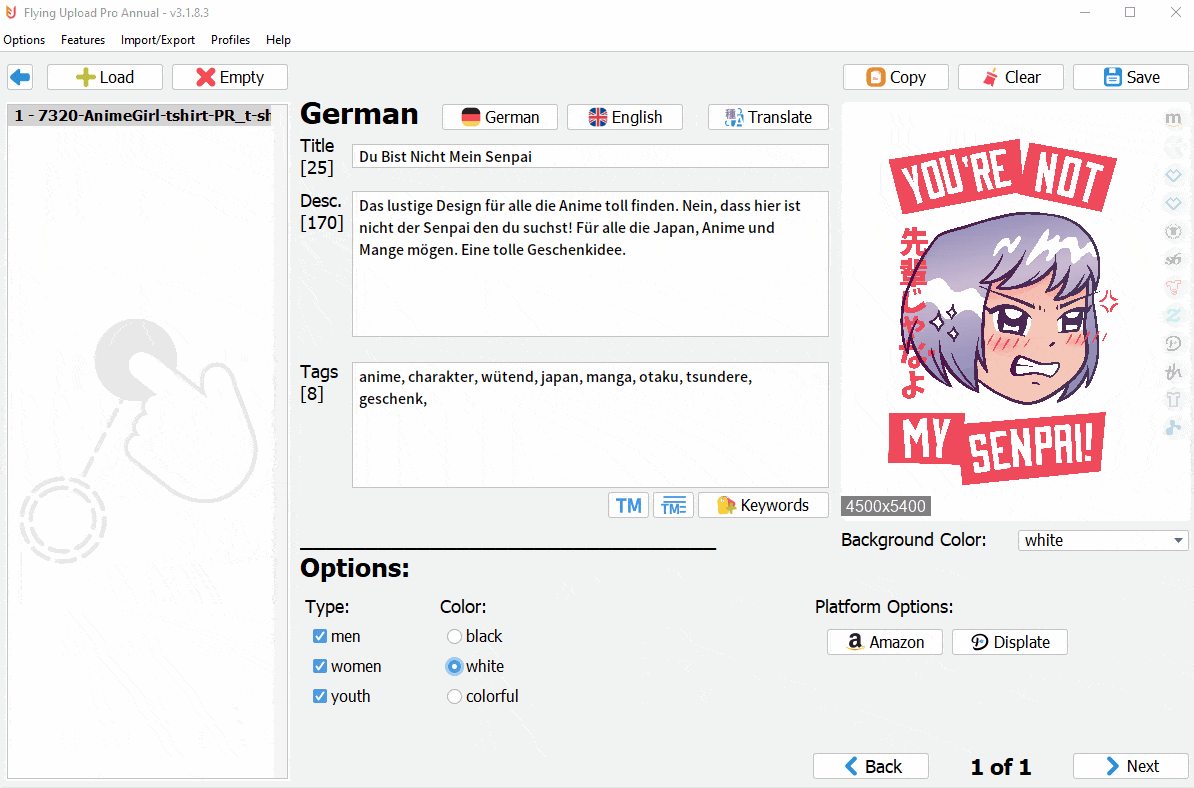 A new language with just one click

Translate to multiple languages at once

Use your Deepl API key

Unlimited translations

Translate your listing with shortcuts
Save Time: Copy Your Data
Why would you repeat yourself?

Simple copy your previous listing

Copy data by one click or shortcut

Bulk copy your data to all designs

Adjust details, don't rewrite your listing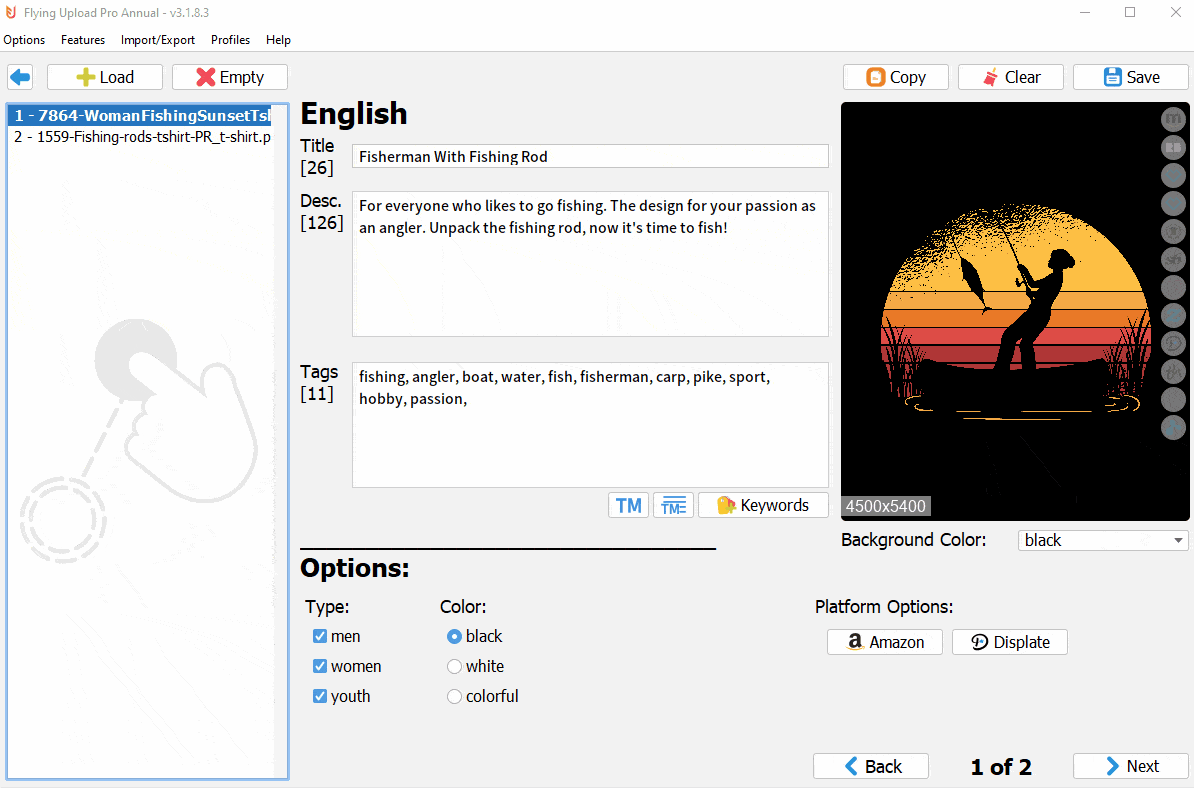 ---
Do you want to enjoy your work with an easy to use interface?
All POD Platforms For More Sales
Upload more of your designs in less time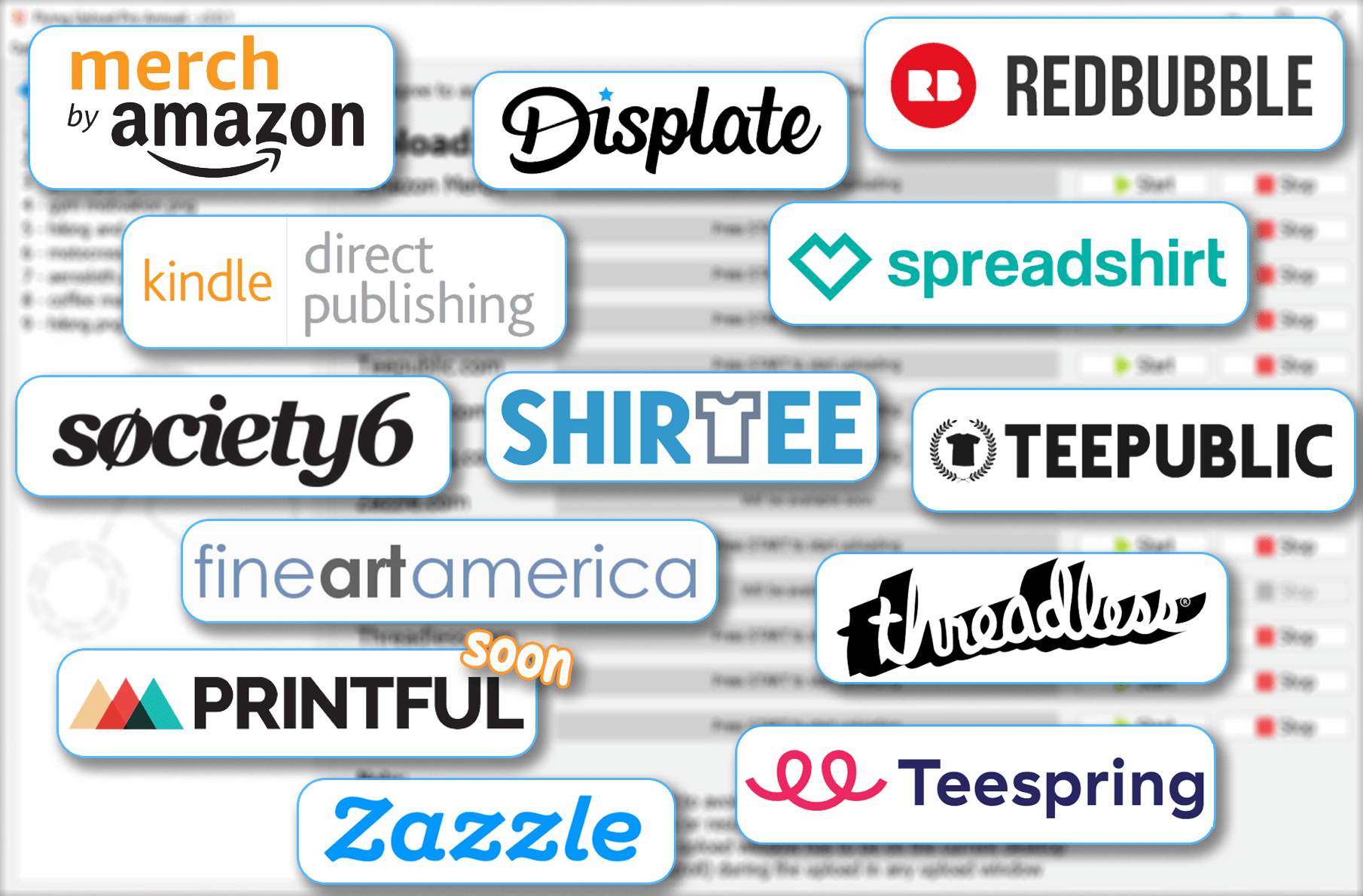 All Platforms In One Tool
All platforms your need

Get more sales with more platforms

Start, pause, or stop uploads at any time

Images are resized automatically

Upload report after each upload
Save Time: Upload Parallel
Why would your wait for each upload?

Let all uploads run at the same time

1 upload, 2 uploads, 4 uploads ….

Use your time more productively

Use the full potential of automation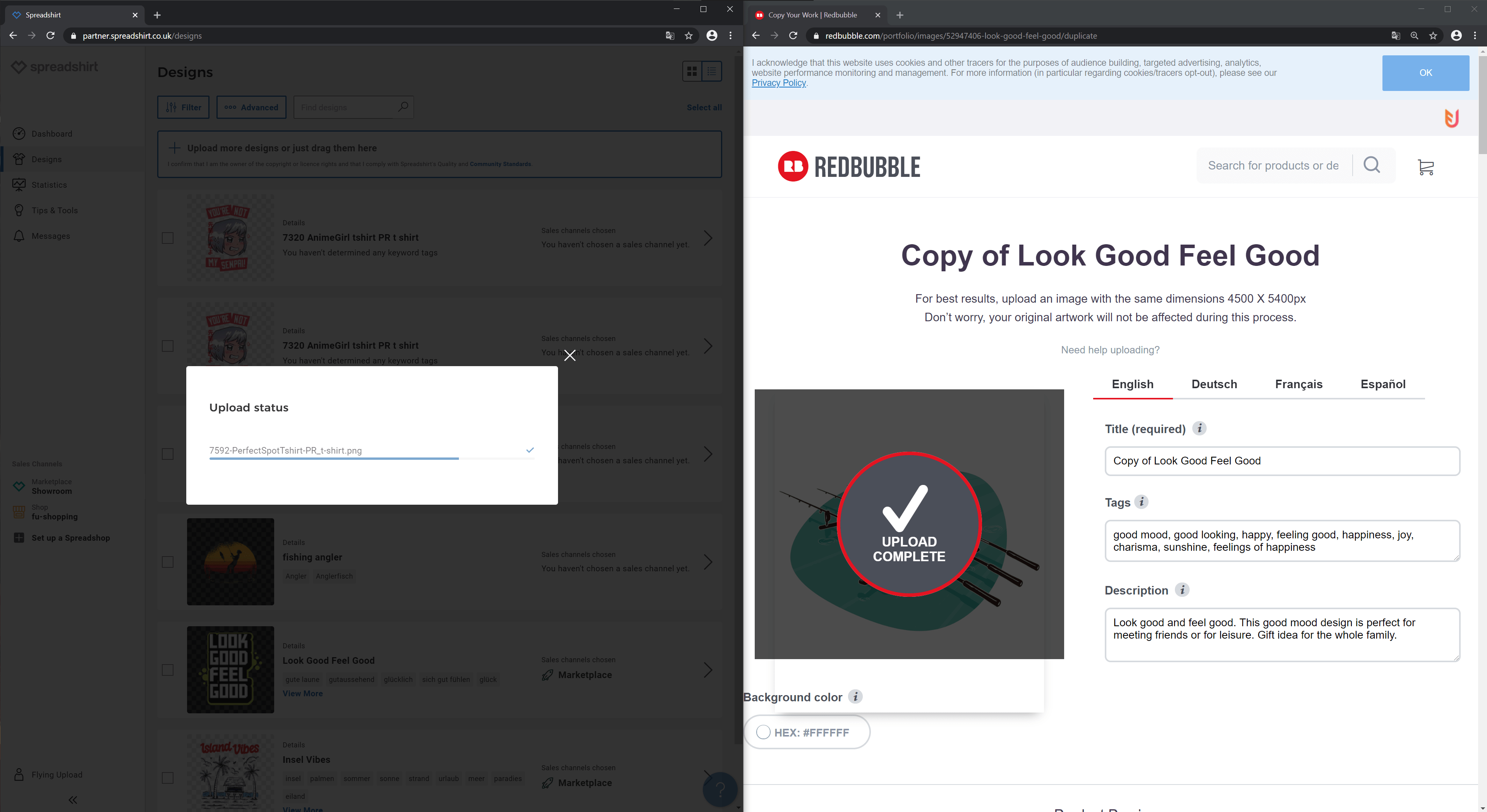 ---
Do you want to boost your sales by uploading to more platforms?
A Trademark Check Made For You
Check all your listings like never before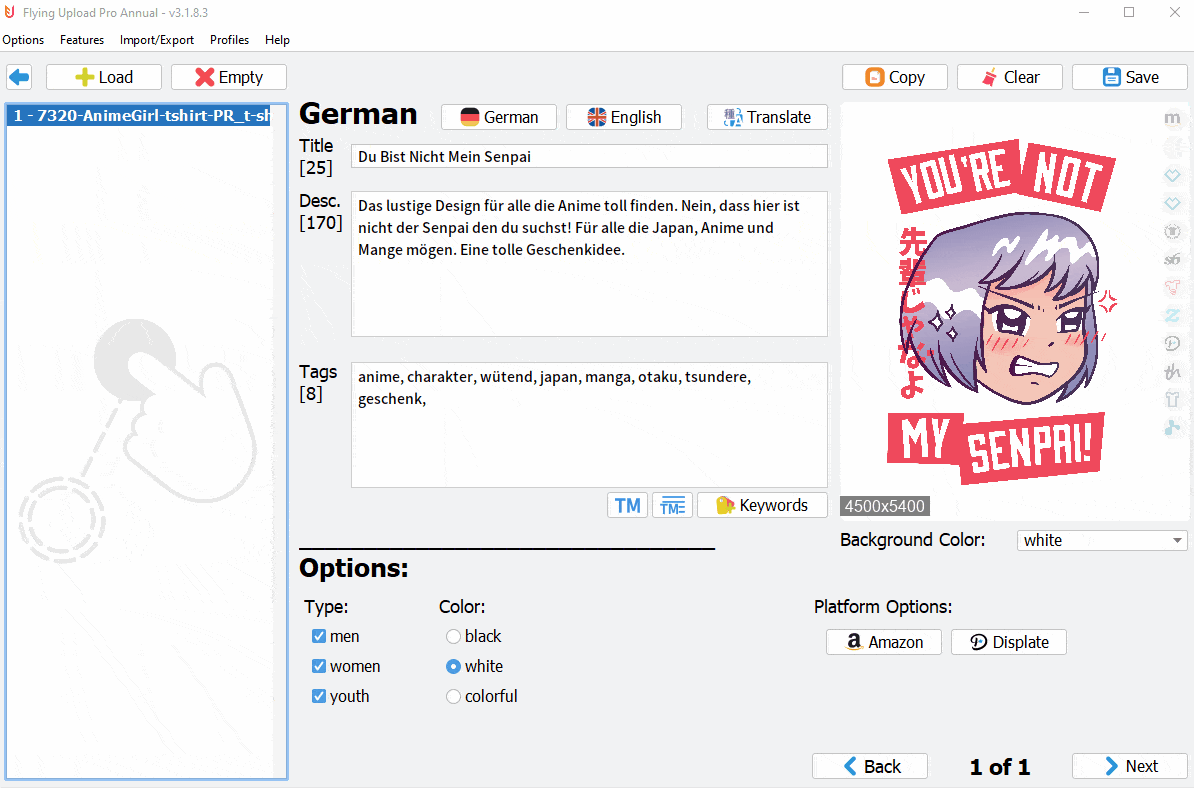 Check your trademarks while tagging

Instant TM check: within one second

Differentiate FILED and REGISTERED

Get visual feedback not a just a list

Customize your trademarks by a whitelist
All Information In One Place
Keep you and your accounts save

All nice classes relevant for POD and KDP

All relevant offices: WIPO, EUIPO, US, DE, UK, FR, IT and ES

Easily replace your trademarks

Integrated in your workflow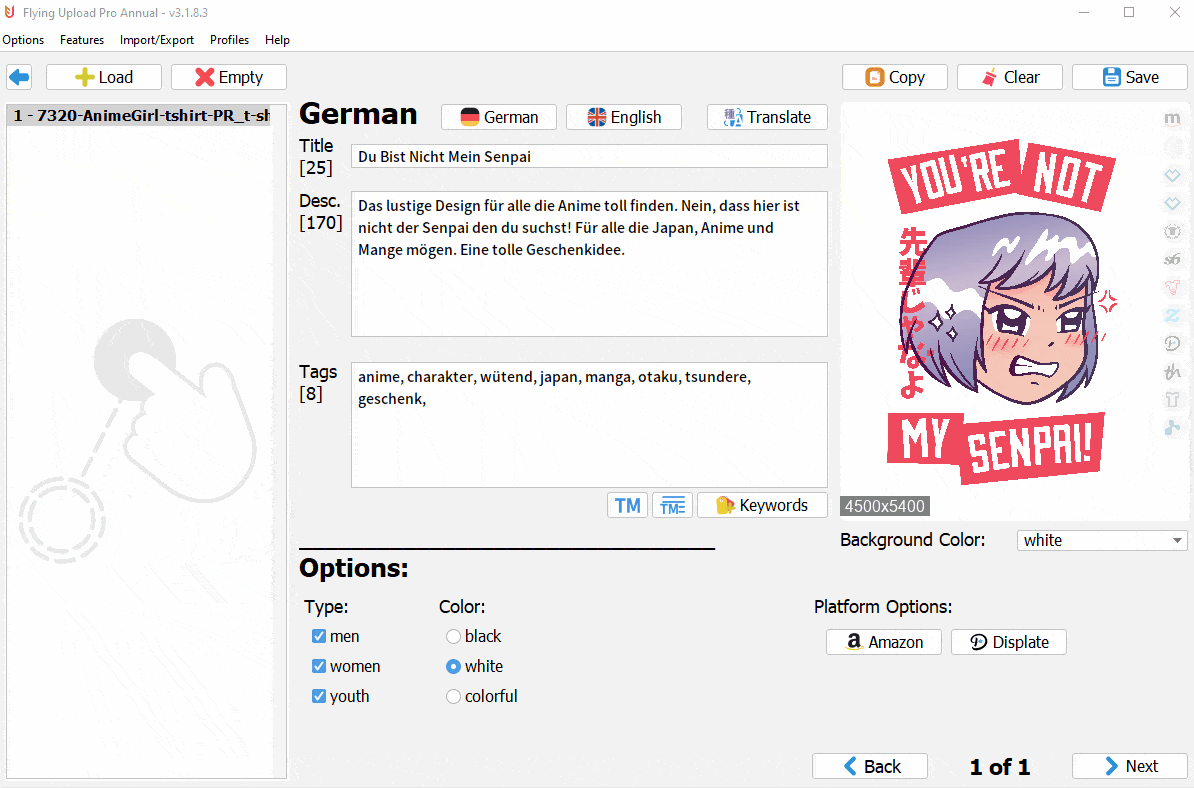 ---
Start checking your trademarks while tagging your designs!
Tricks Of The Professionals
Inspired By Professionals Made For Everyone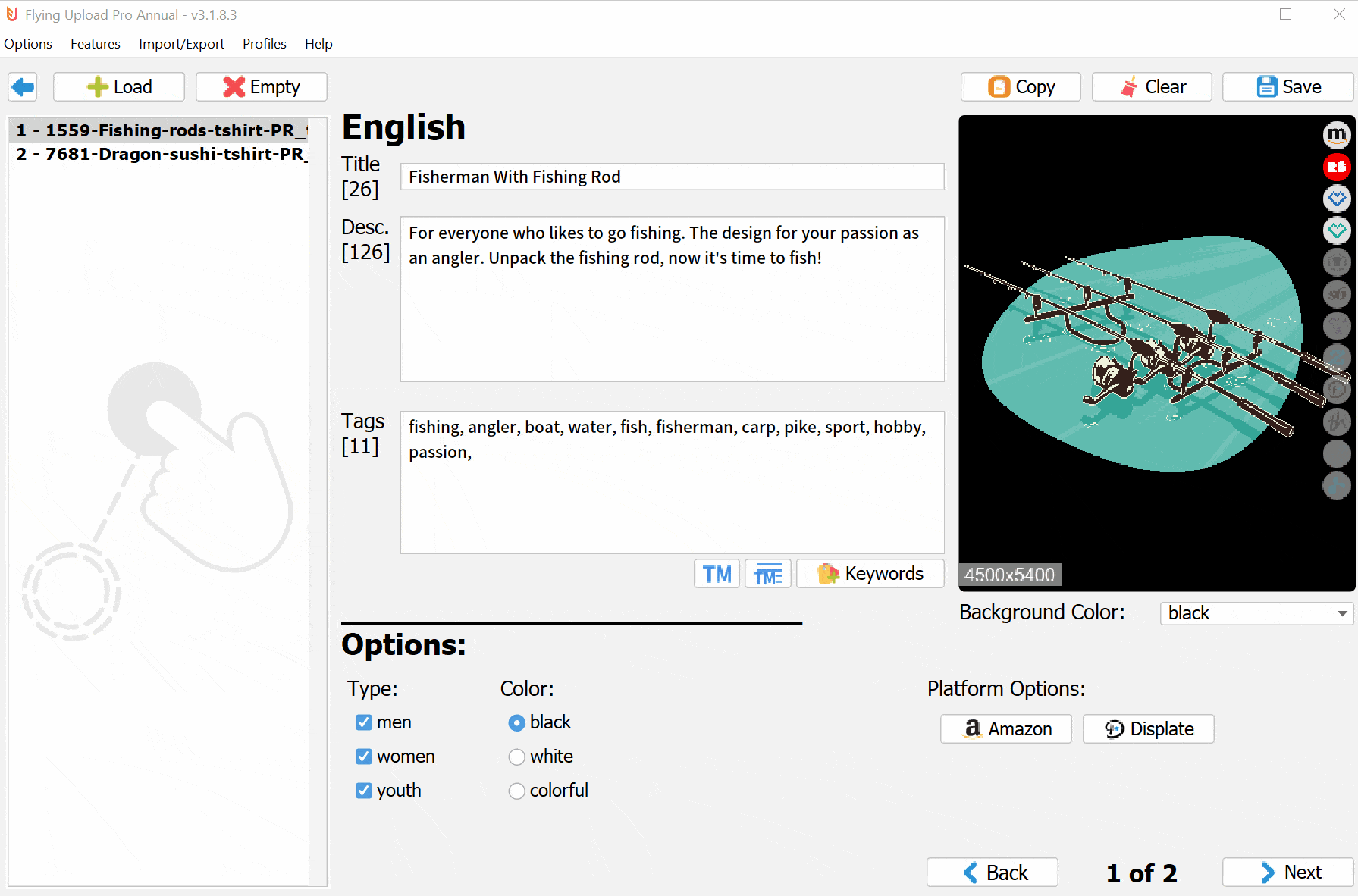 Keep Track Of Your Uploads
Track all your uploads across all platforms

See which design was uploaded where

Get visual feedback or view it as a list

Forget keeping excel sheets for tracking

Remember: you don't have to remember
Set Your Listings As Profiles
Save time and define templates

Configure any listing as a reusable profiles

Save all your amazon configurations

Reload your configurations with one click

Define custom shortcuts for profiles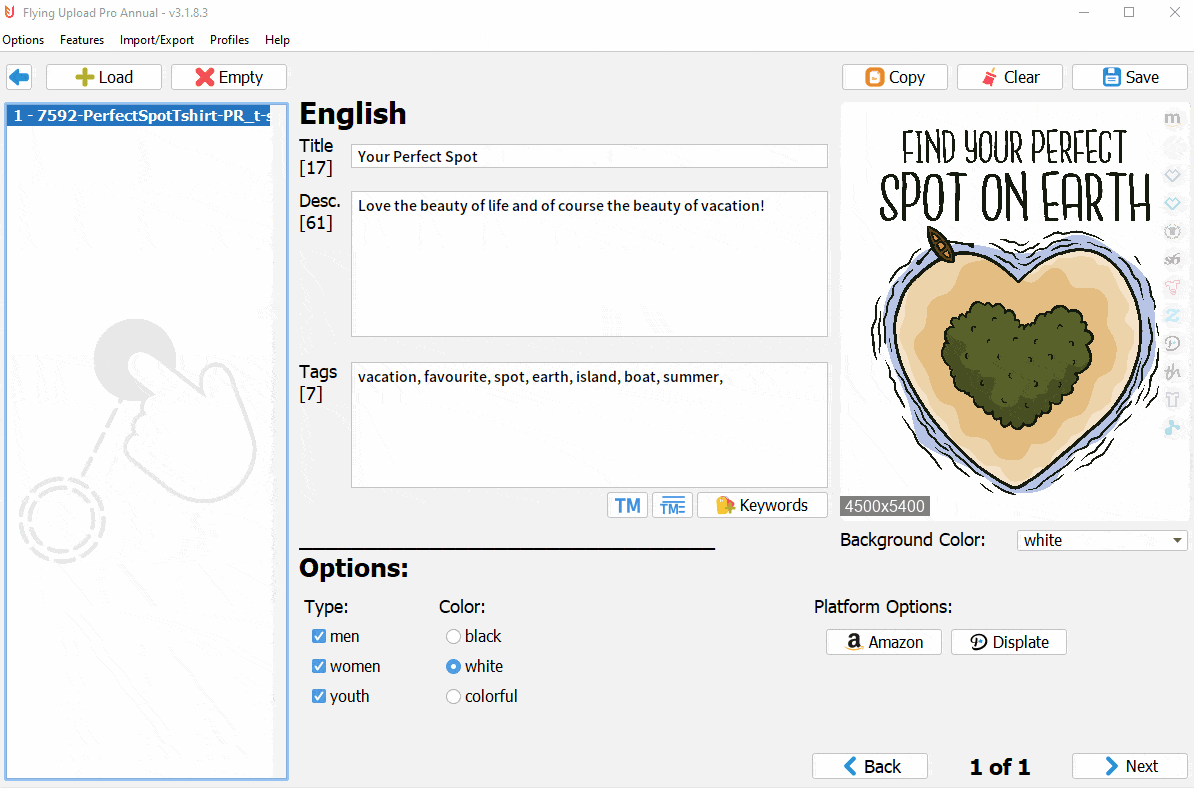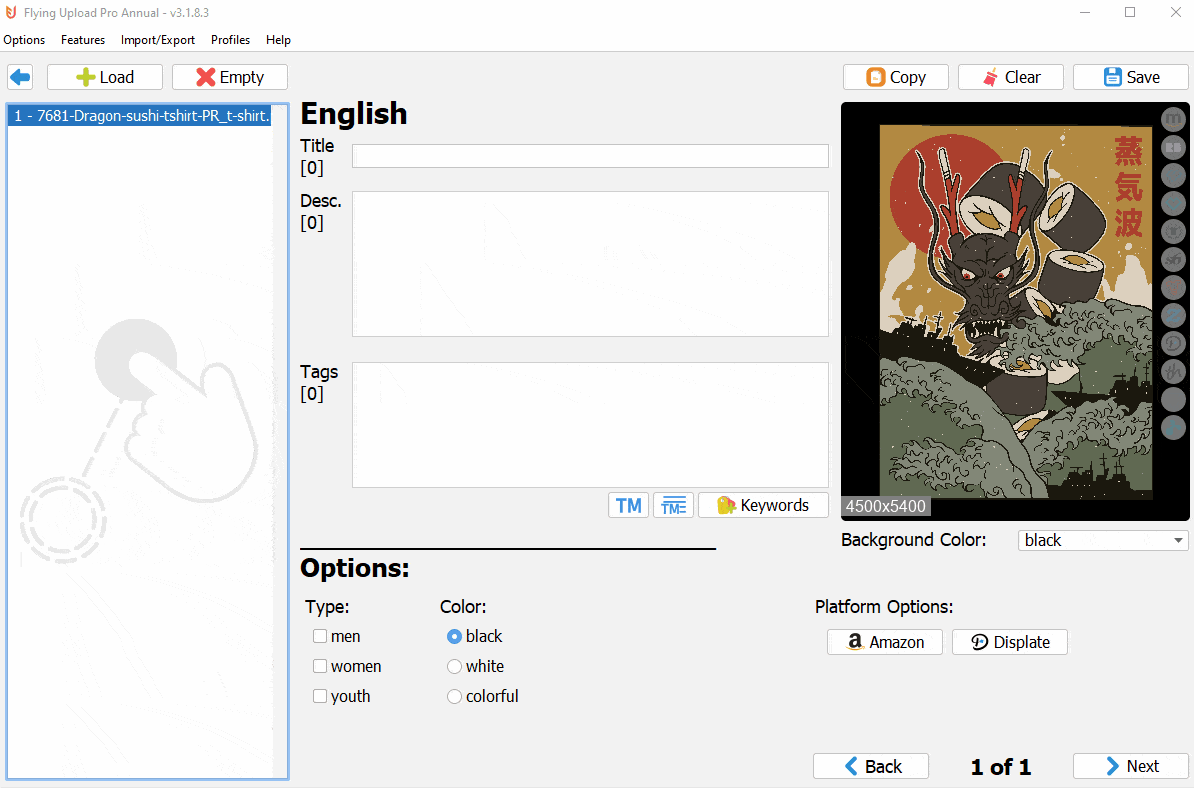 Save time by using predefined descriptions

Many predefined once to choose from

Customize your own text suggestions

Usable for both descriptions and keywords
---
Start growing your business with a personal assistant!
New Keywords To Drive Sales
Search for keywords and generate your tags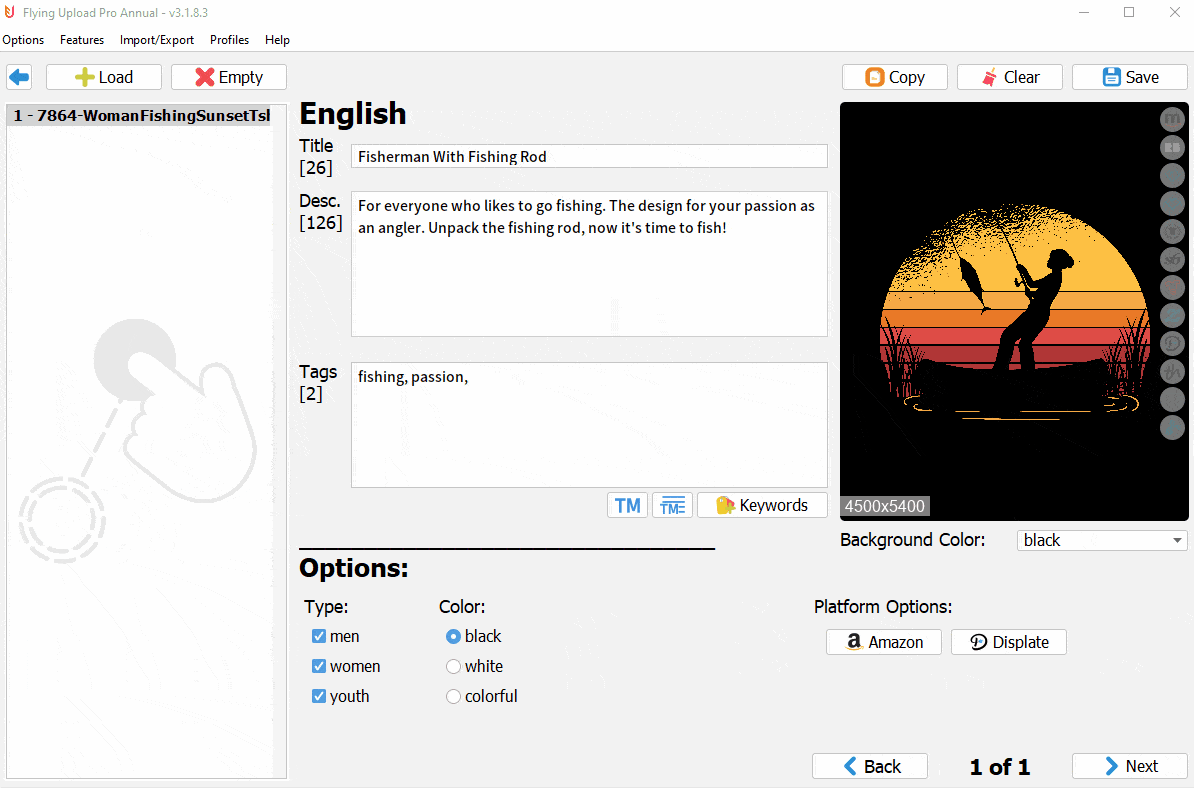 Integrated Keyword Search
Why use expensive tools for keywords?

Simply search and add new keywords

Keywords, Long Tail Keywords, Synonym, …

Add keywords by just one click

A keyword finder for your workflow
Are you finding 25 tags each time?

Let the tag generator find your keywords

New algorithms for finding your tags

One click and all your tags are there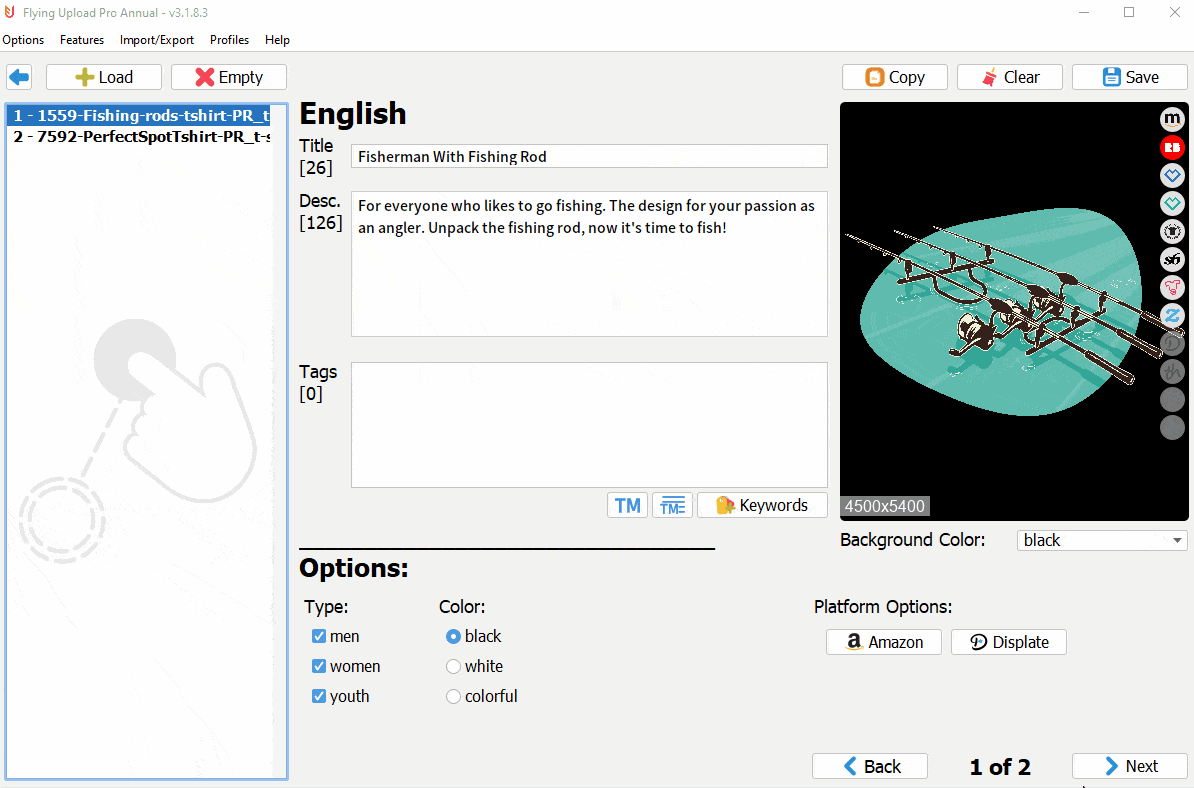 ---
Start finding the right keywords for your listings!
Kindle Direct Publishing
Increase your sales by uploading to KDP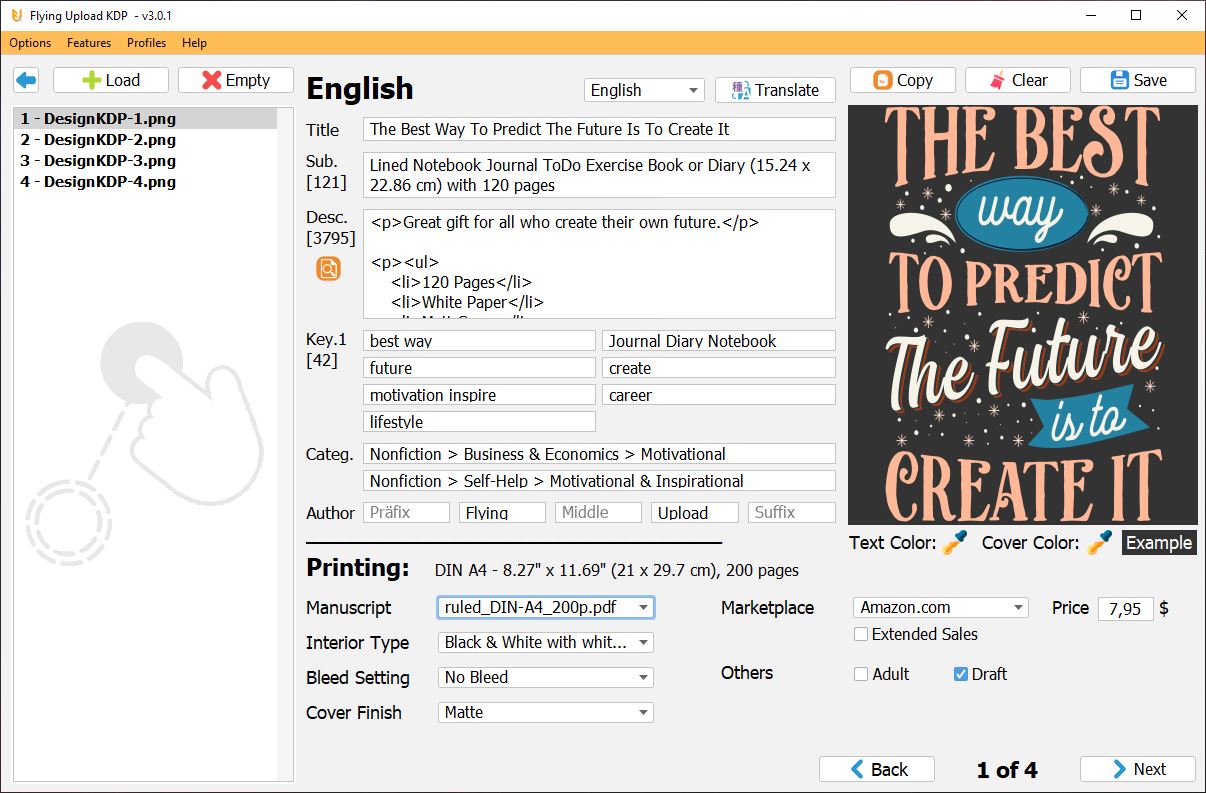 A Intuitive Interface For KDP
Super simple and easy to use

Drag & Drop your images

No more excel columns

Work faster with shortcuts

Save and reuse your data
Use the integrated category search

Pick the best category in seconds

Cover Generator – PNG to PDF

Generate the spine text

Generate HTML code with one click

Check your Trademarks for KDP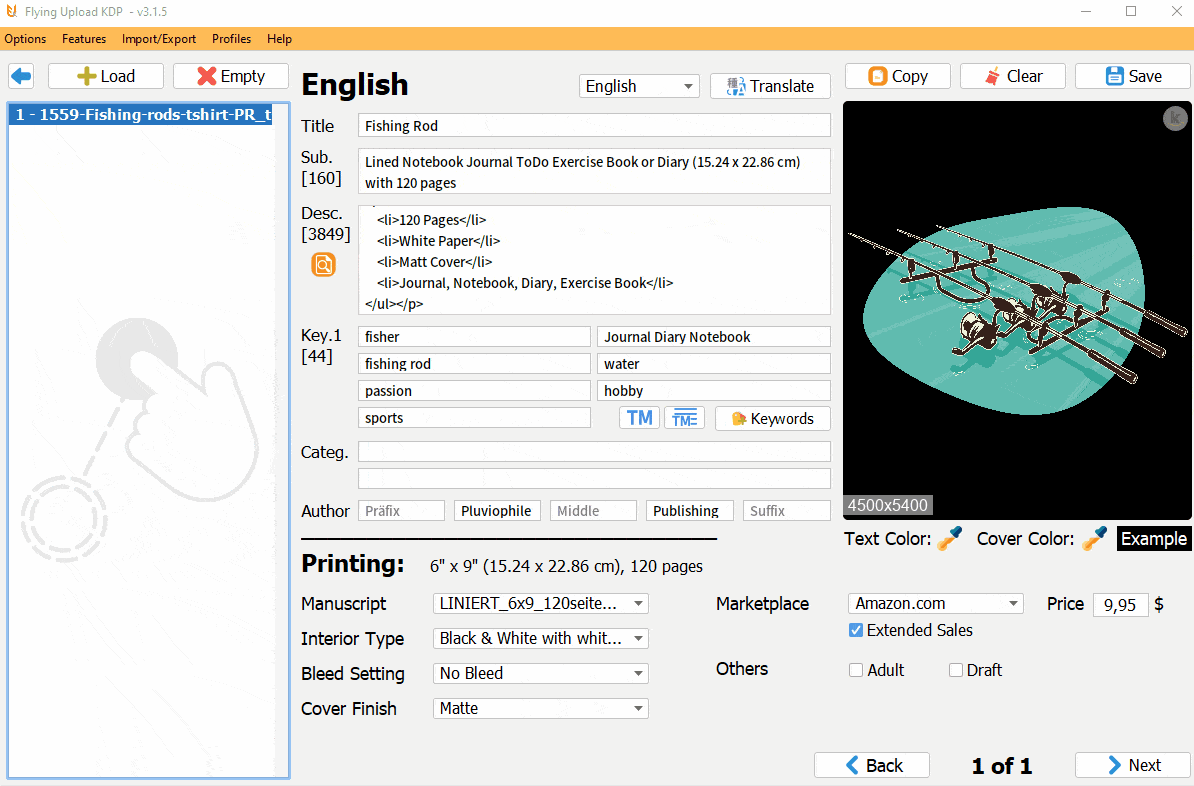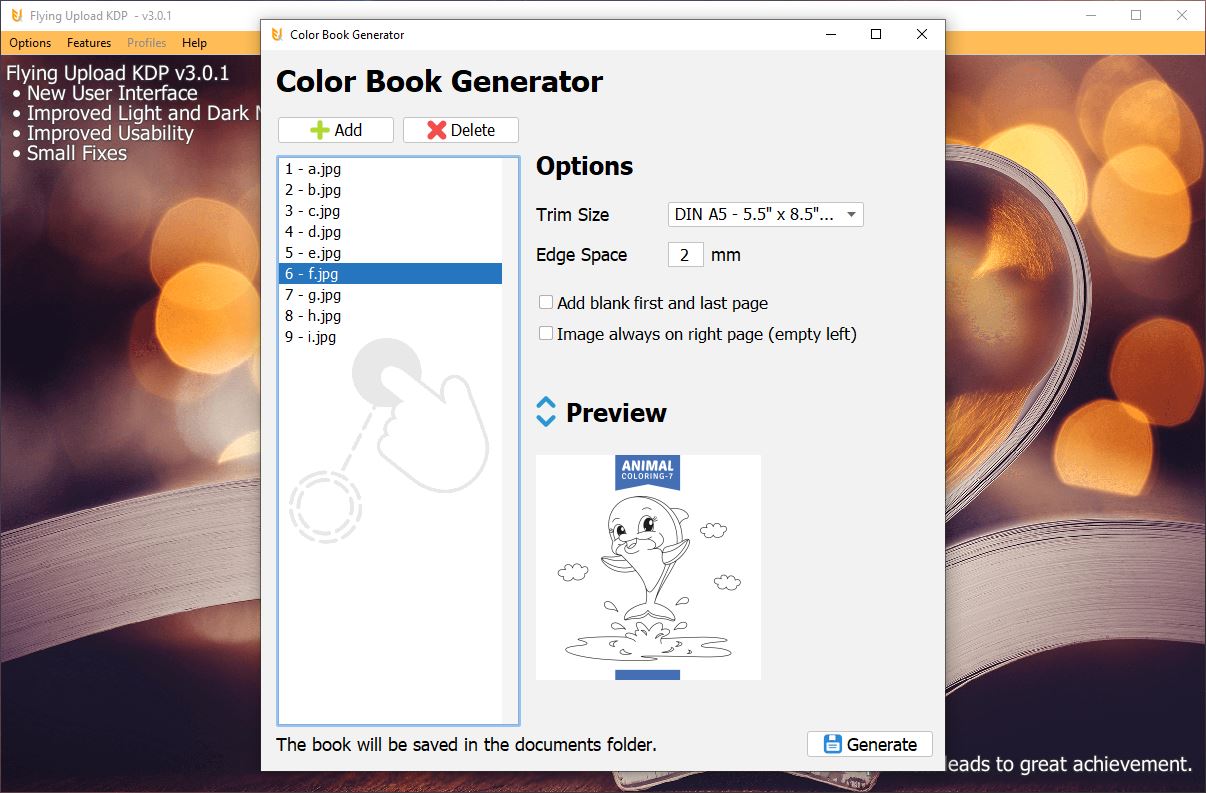 Are you selling coloring books?

Use your designs to generate books

Create a coloring book from images

Create sudokus, crossword puzzle, …

Create bestsellers with great interiors
---
Start your journey with Kindle Direct Publishing!
Enjoy Designing And Uploading
Let's see more features and look at the specs
Drag And Drop
Experience intuitive usability with Drag and Drop functionalities. Drag and Drop all your design files within Windows and MacOs.
Light/Dark Mode
Use the Light or the Dark mode within all windows of Flying Upload. Change the mode dynamically during the usage of the tool.
XML Files
Edit the design once and save all your data, like texts and options for the designs, in XML files. Reuse the data through the sustainable approach.
What We Support
English, German, French, Italian, and Spanish
Windows
MacOS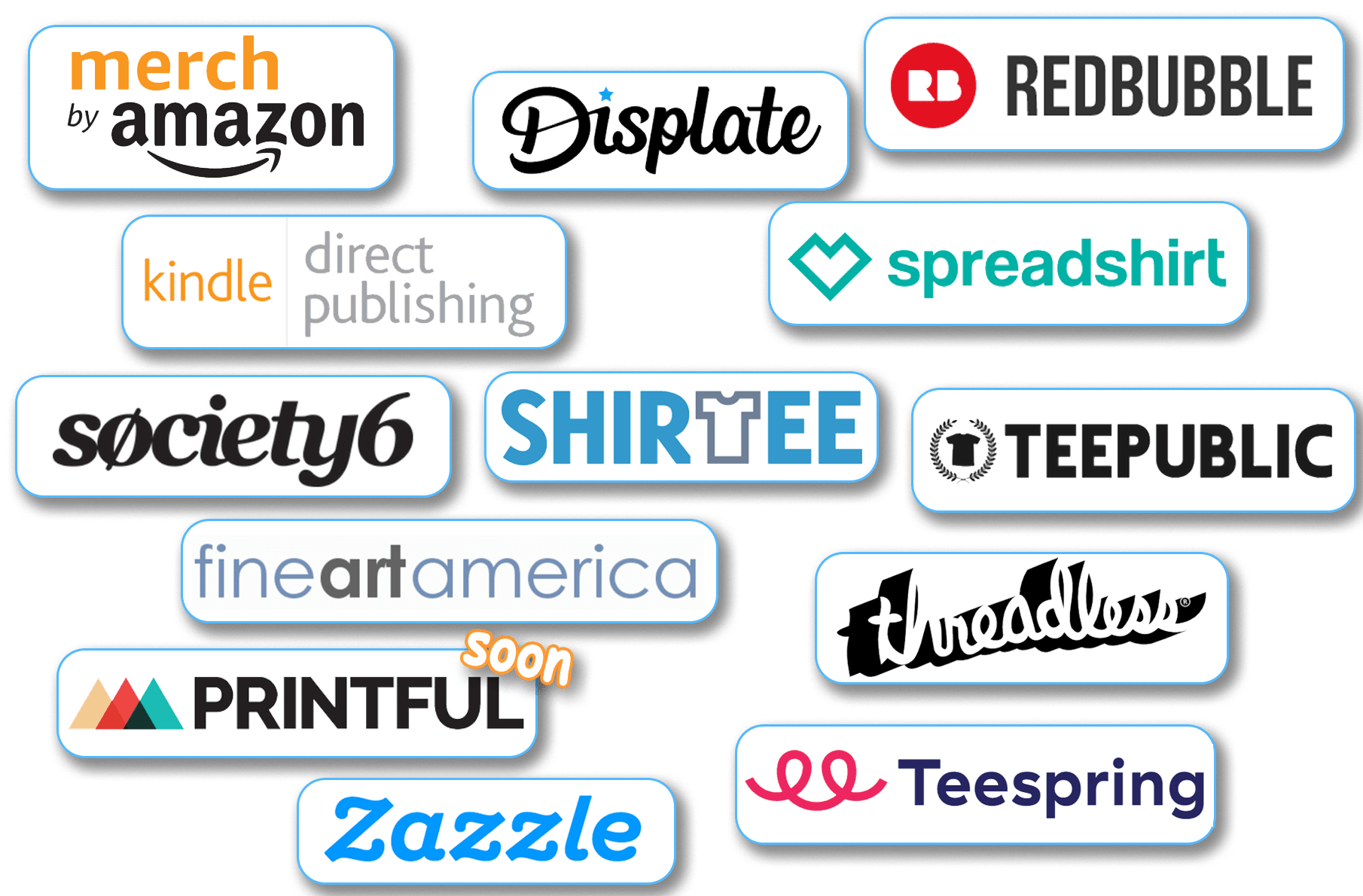 Focus On Your Designs
Make Uploading Easy
What are you waiting for? Get the great
power of a personal assistant and start
uploading automatically today!
Recommended
Designs as PNG files
Designs with 4500x5400px
Monitor: HD-Ready or higher
System Requirements
Windows 7, 8, and 10
MacOS 10.11 or higher
64 Bit Operating System
RAM: 4GB or more
Available Packages
Flying Upload is available in the following three packages: Beginner, Advanced, and Pro