Design Research On The Next Level
Best Sellers, Trends, History, Real Time, Favorites, … and much more!
On Amazon you have to analyze page by page. Why would you doing this, if you can have all the Best Seller, Statistics, and Keywords with a single "Search" click. Flying Research offers you possibilities no standard Amazon search tool can!
Ah yeah … and we have a dark mode!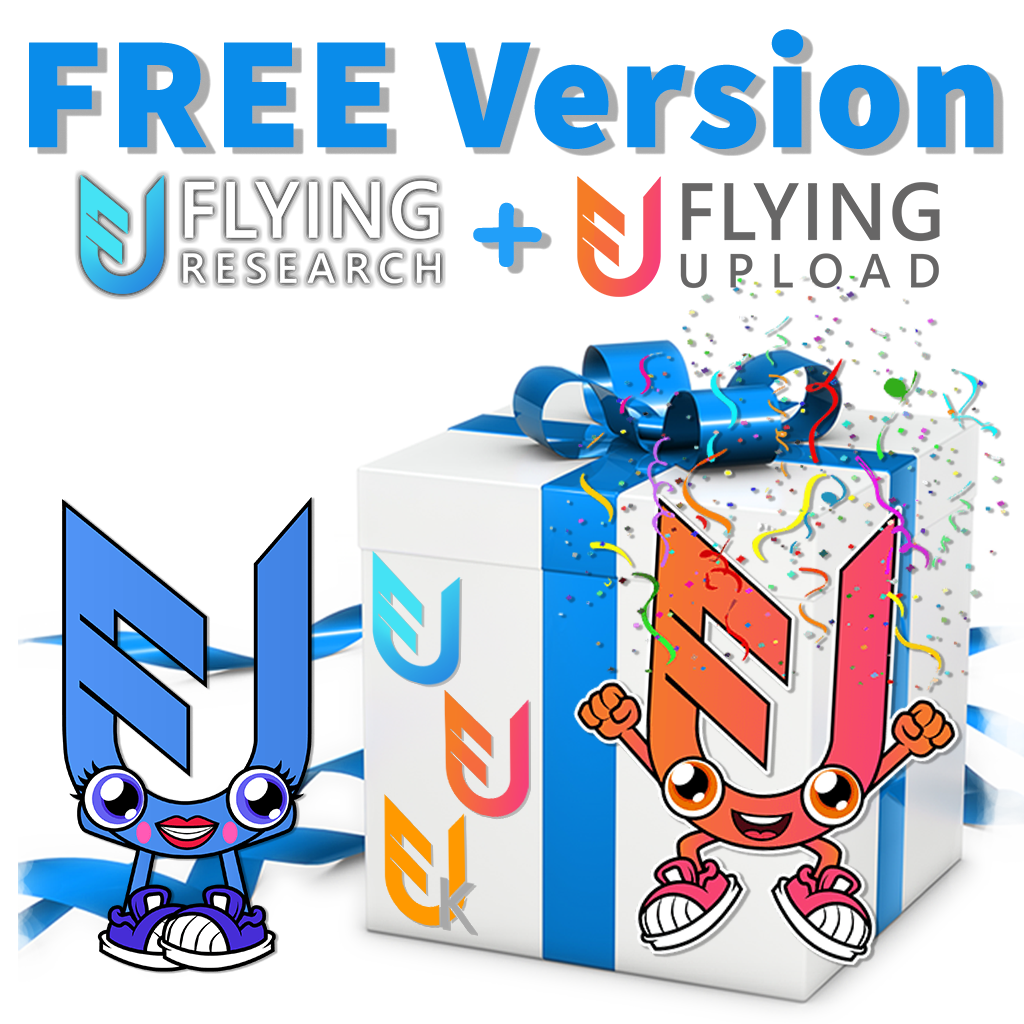 Research & Upload for FREE
Best Sellers
…
Niche List
…
Product Search
…
Trademark Search
…
Design Management
…
Upload to all POD platforms
…
Upload to Kindle Direct Publishing
…
… and much more
---
…
The Most Advanced Research
A research like no other!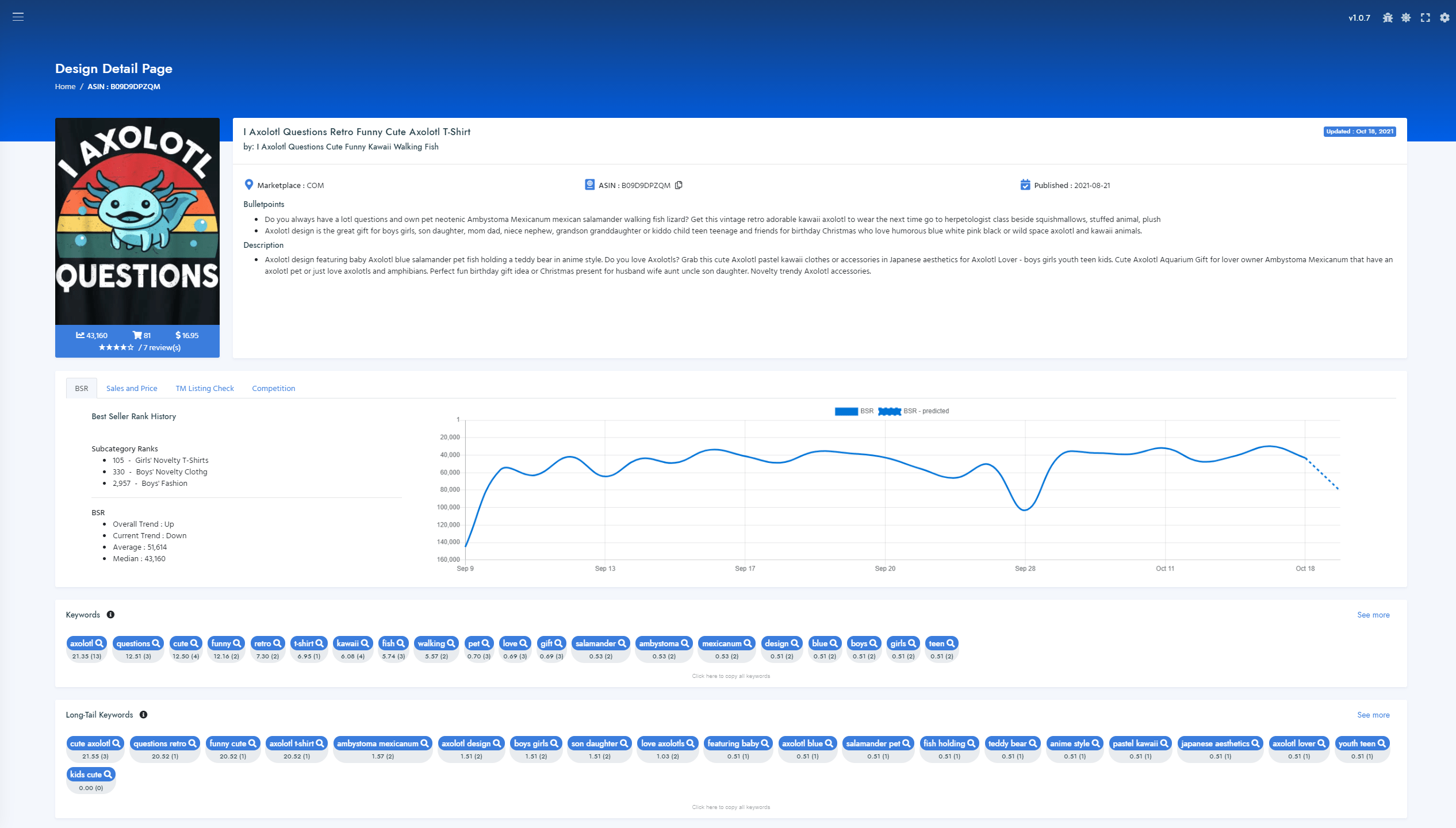 Check the BSR and Price history

Get all relevant keywords from a listing

Copy keywords with one click!

Updated in real time

Remember for later and save as favorite

Download or copy the image

See similar and same brand designs
Extracted keywords and longtail keywords

Amazon suggestions

Google and Google Trends suggestions

Compare designs by BSR and keywords

Copy keywords with one click

Did you know that an Axolotl is a great topic? Now you know!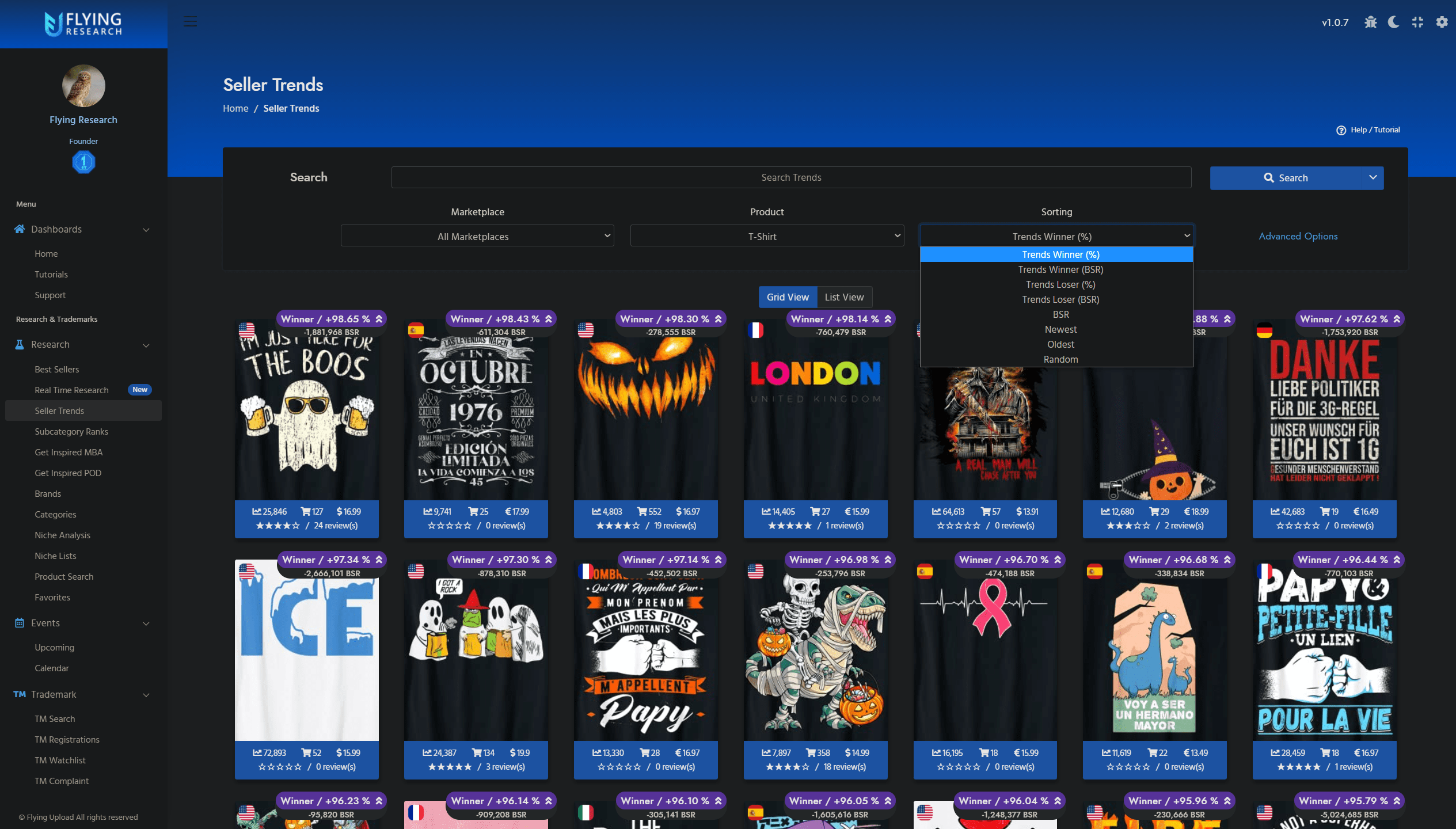 Watch the biggest gainers in Seller Trends

Sort by percentage or BSR value

Set different time ranges

Three months, one month or one week

Filter for Newcomers

Set your BSR range from 1 – 2,000,000

Not just shirts, also hoodies, PopSockets, phone cases and KDP!
Get a great score based on our algorithm

Get scores and averages

Similar niche ideas for you

Niche trend and statistics

Amazon, RedBubble, Spreadshirt keywords

Niche Best Sellers and comparison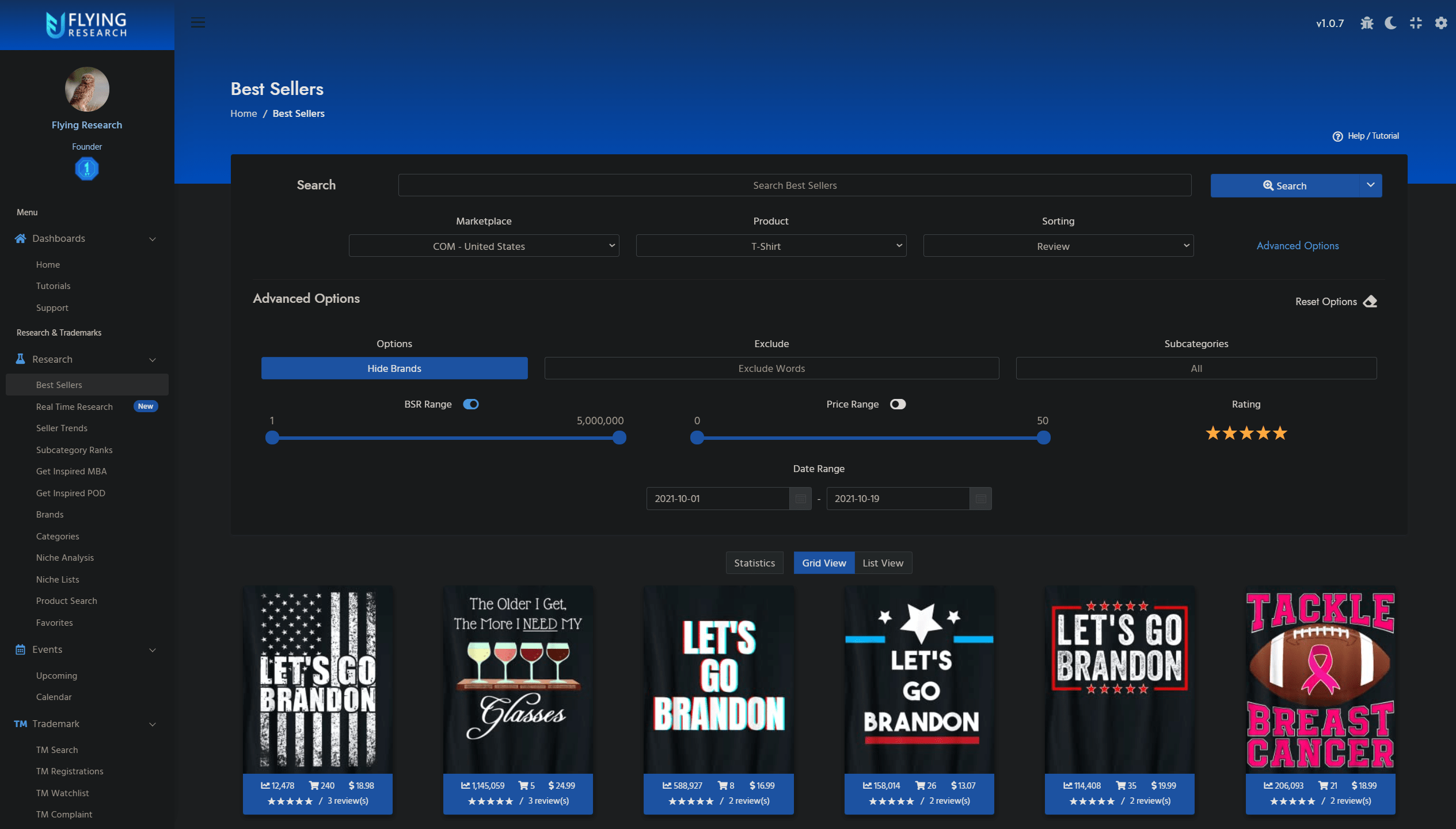 Dive deep with our advanced options

Sort by a date range, find the newest seller

Specific and Title Search for exact results

Search by Amazon customer reviews

Exclude keywords you don't want

Set your BSR or price range

Hide official brands and let them never bother you again!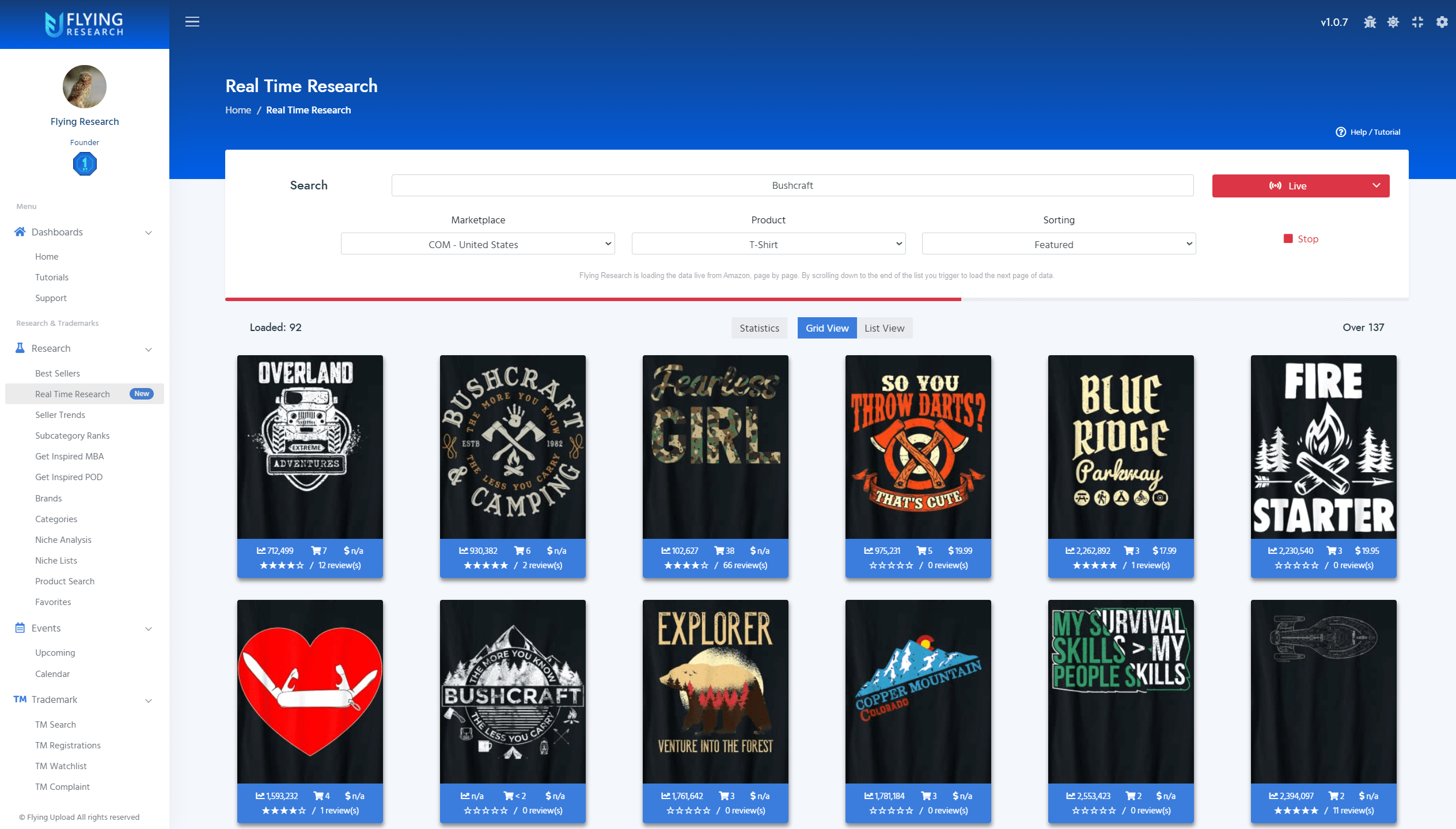 LIVE data from Amazon

Analyse a whole niche and not page by page

Directly updated in the design database

Load as many results as you need

Get LIVE statistics

Exclude official brands during live search

Sort for Featured, Newest, Reviews and Oldest!
With Information You Don't Find Anywhere Else
LIVE statistics for the whole Real-Time-Research (RTR)

See what colors are used for the niche

See what fit types are being used

Get ALL extracted keywords

Amazon and Google suggestions for you!

Why analyze without any comfort? Why do it page by page, if you can have the whole niche with all its valuable data!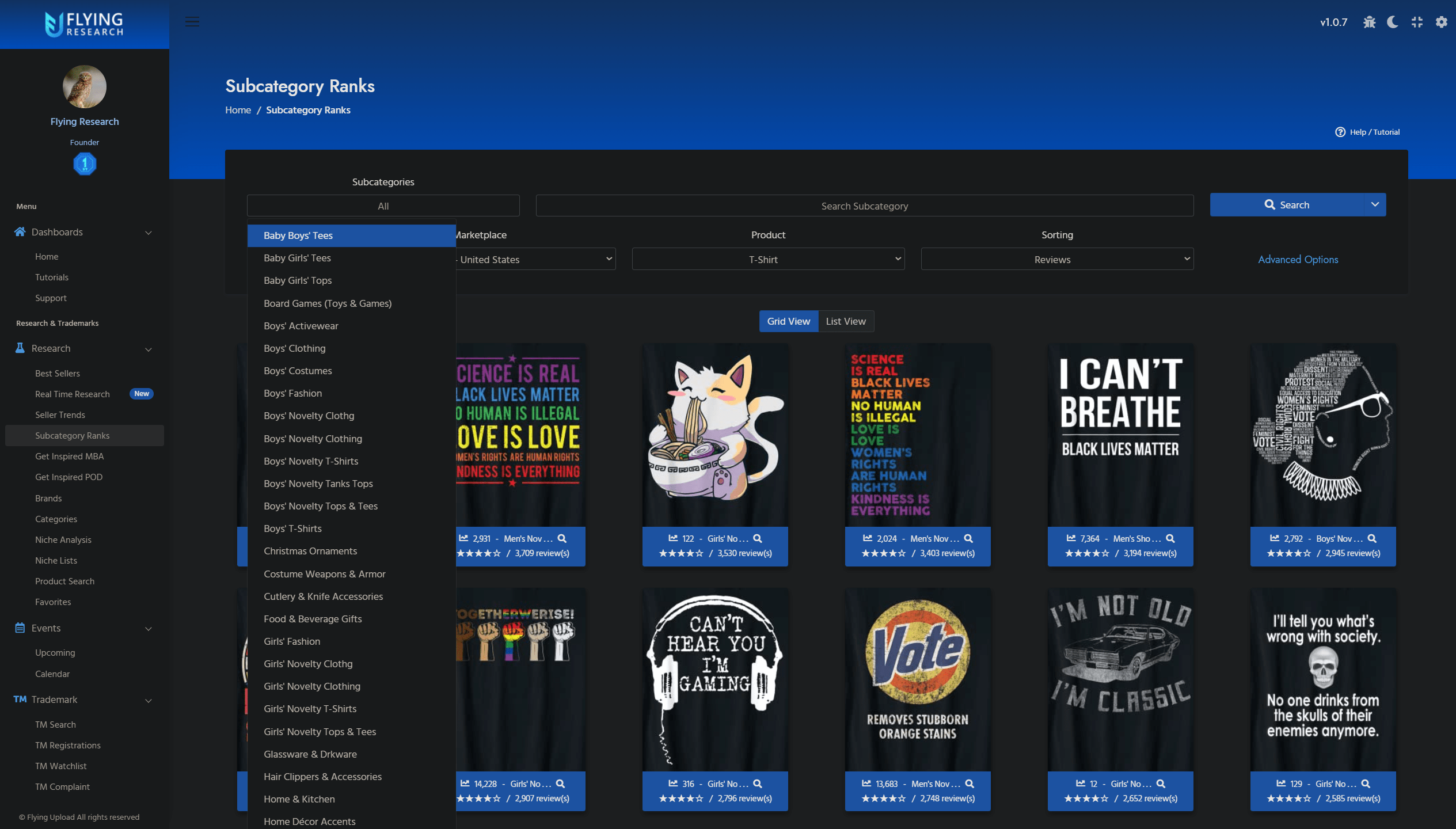 Different Ways For Your Research
Not every design is ranked in "clothing"

Explore subcategories and the designs

Filter in different ways

Find out about the structure of marketplaces
New Horizon With RedBubble And Spreadshirt
MBA is good but also keep an eye on other POD platforms

Get relevant and new designs 

Sort for a specific platform

Add it to your favorites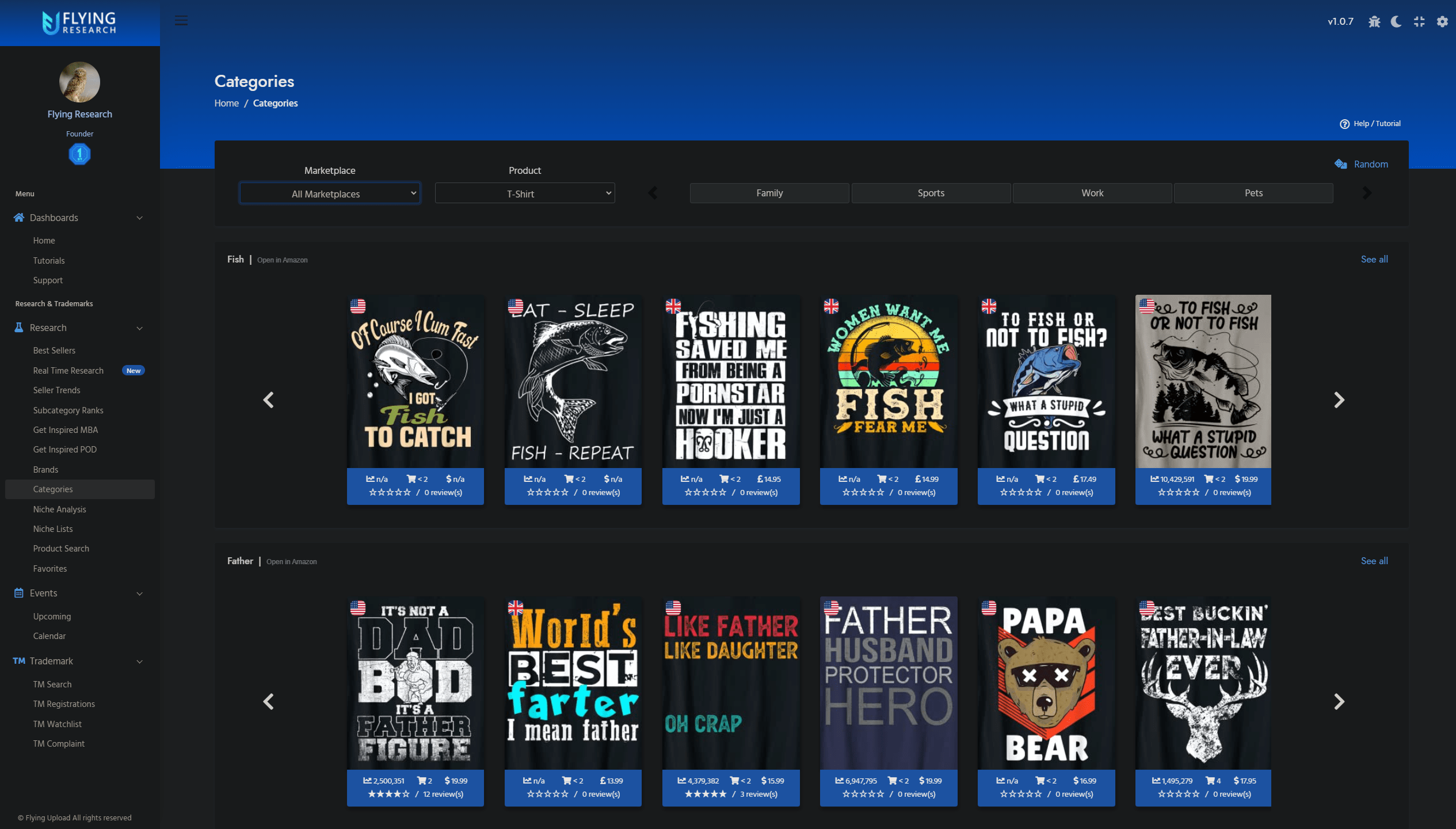 Search without a specific marketplace

Get suggestions for evergreens

Open Best Seller search with one click
Don't Lose Sight – Favorites
You can mark every design as favorite

Give them a tag to manage them

Simple and fast to get a great overview

Download the designs you want with one klick

Or send them via mail directly to your VA or friend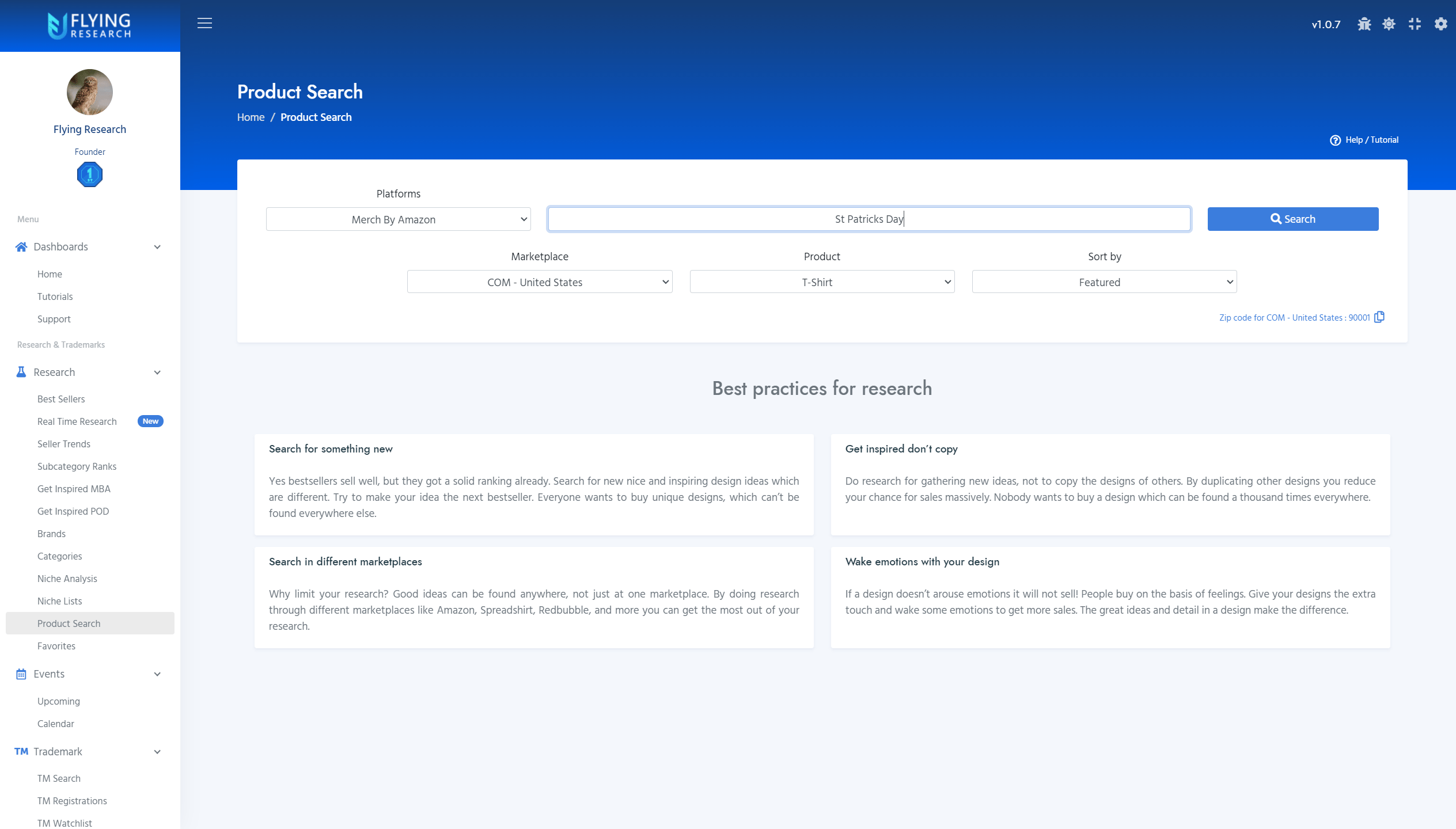 MBA search directly on Amazon

We deliver you the right Zip Code

Research on Spreadshirt or RedBubble

Or Kindle Direct Publishing KDP!
See all upcoming events

For all available marketplaces 

With designs and easy move to best sellers

Search for the event and product you like!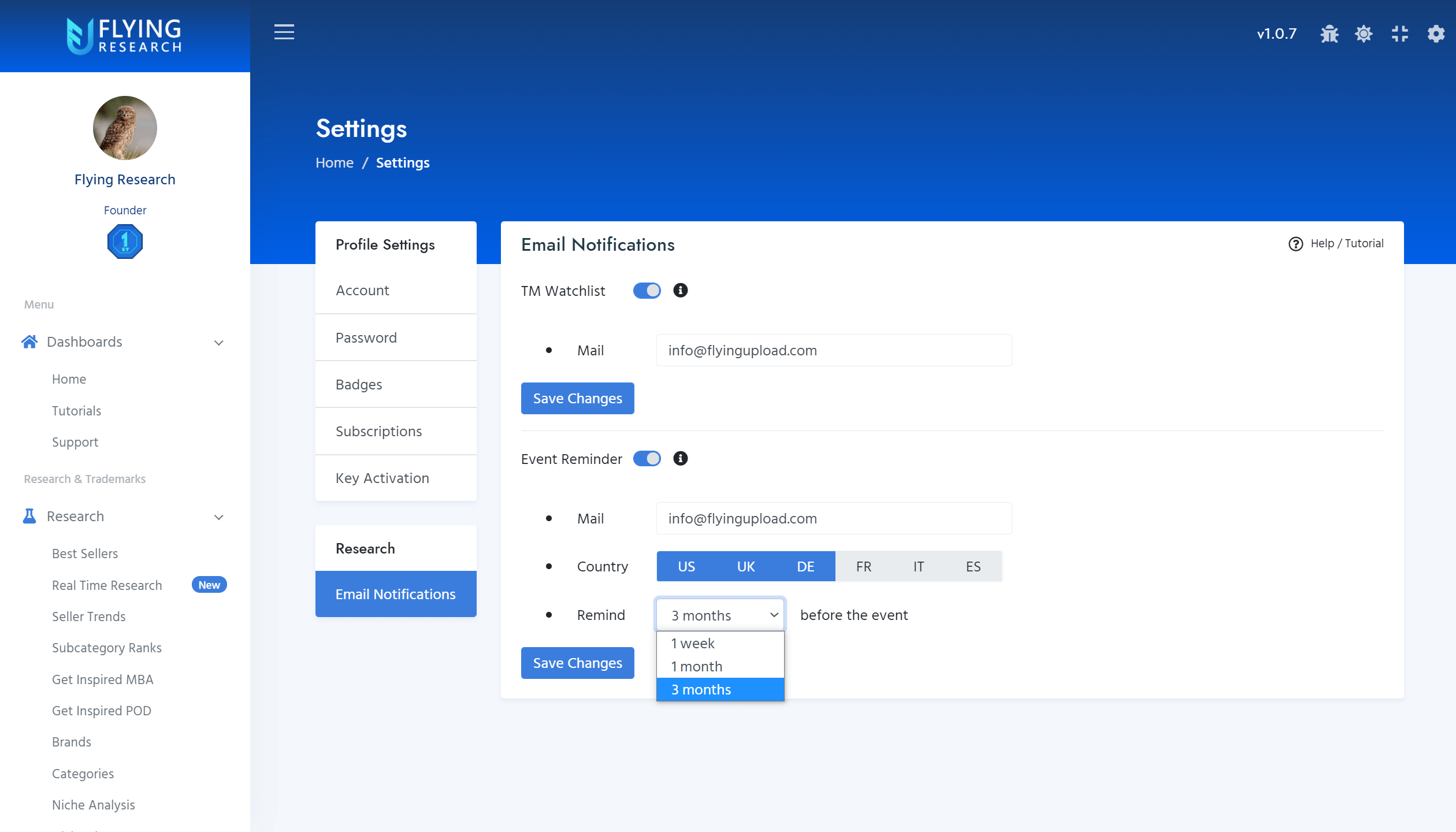 Never Again Late At The Party
Set up reminders

Get informed via mail before the event

1 Week, 1 Month or 3 Months

Select only the marketplaces you need
---
Wanna make your research great instead of good? You want to have super fast research for a whole niche instead of analysing single pages? Create a workflow instead of just work? Get Flying Research today and get all these great advantages!
Annoying But Very Important: TRADEMARKS
TM Search, New Registrations, Watchlist, Mail Notifications – for the safety of you and your account.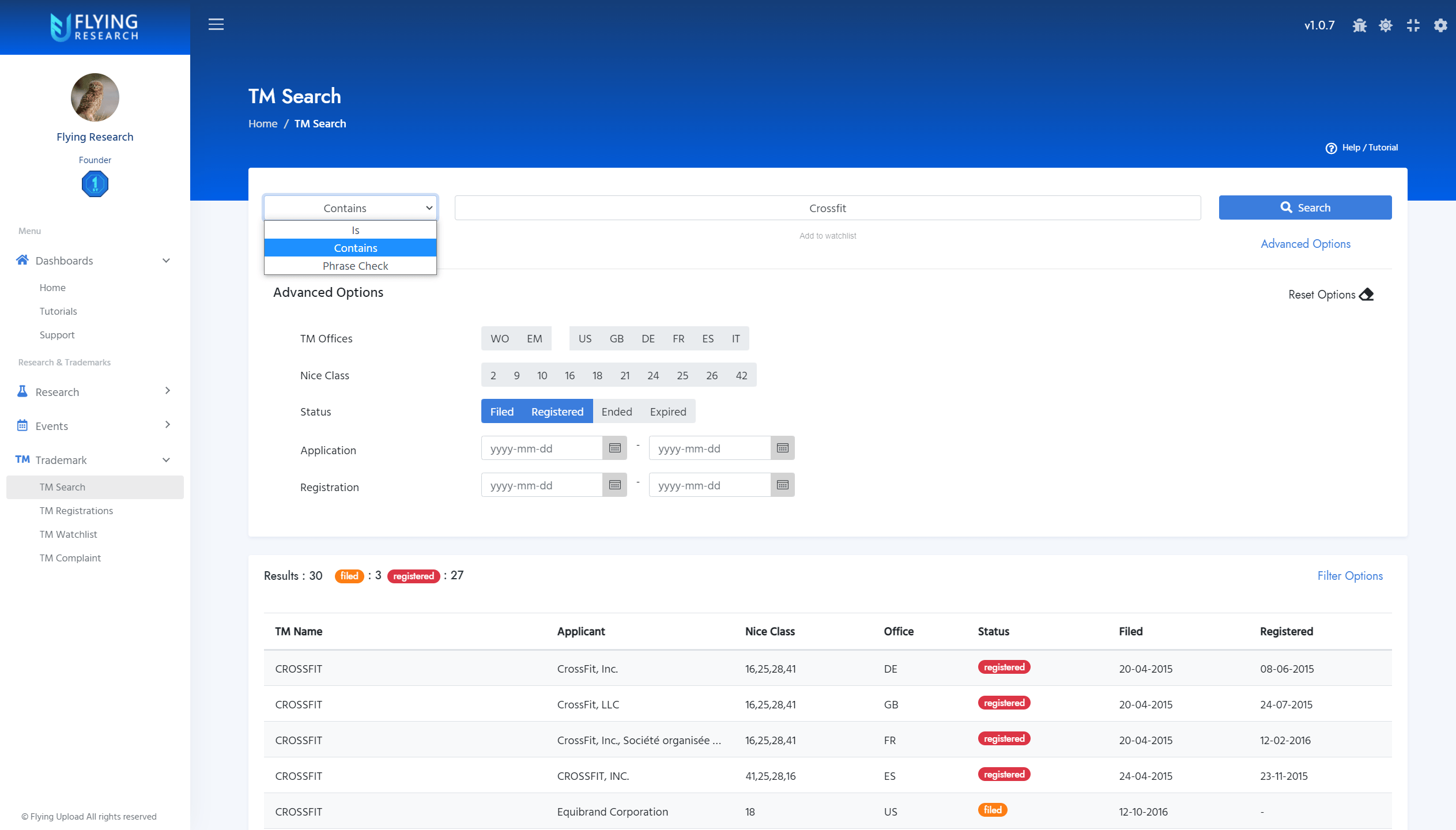 Check for single words, whole phrases or both

Only relevant results for you

Filter after new or ended trademarks

Filter after applicant so you know the bad guys
Add existing or new trademarks you want to get checked

Set up a mail reminder 

Get informed every Sunday if something has changed

Add as many as you need and like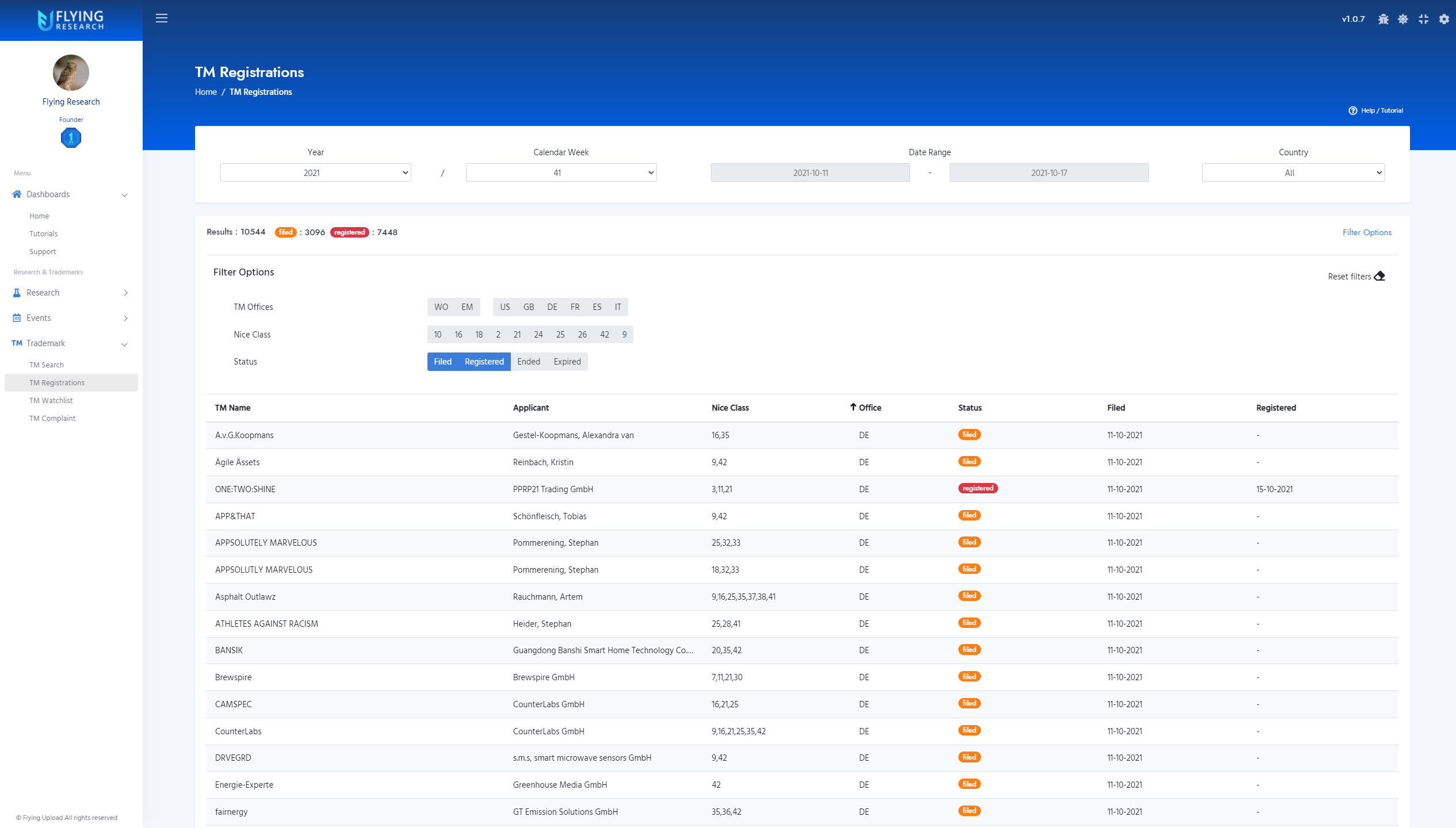 Get an overview what is new

See what is filled or registered

Also search for ended and expired

Updated every week with all relevant TMs
United Against Trademark Trolls (German Office ONLY!)
Send a fax directly to the German DPMA

Standard process 

Sort for a specific platform

Add it to your favorites
---
Protect yourself against trademark infringements. Set up mail notifications and monitor all your important phrases and word games. Start with Flying Research today.